The Most In Demand Home Upgrades For 2018
Every year there are new trends and upgrades that catch the attention of every buyer, seller, and homeowner in between. Last year we saw the fad of white kitchens, quartz counters, and grey hardwood floors. Soft greys, hues of blues, and variations of white were all the rage. Upgrades like stainless steel appliances, quartz counters, and porcelain tile wood-like floors were the primary focus for sellers looking to raise property value and buyers looking to remodel. So what is it this year?
1. Smarter Storage. As living spaces continue to shrink, we need to get more resourceful with storing our things. Minimalism is chic, but how do you minimize when you're constrained to 1000 square feet? Double-duty kitchen wall space is your answer. Open cabinetry, heavy-duty shelving, and in-wall cupboards allow for more storage, organization, and convenience.
2. Lighter Loads. Smart lighting is taking over and there's a good reason why. Automatic systems save energy and money by turning off lights when you're not using them and adjusting lighting levels to fit your needs. This goes along with smart thermostats and home security. Investing in smart tech for your home is an upgrade worth looking into.
3. Welcome Matte. Say goodbye to gloss. Hammered tiles and matte finishes are the trend of 2018. Unique textures add depth and modernize your home. We have a hunch you'll be seeing far more matte finished appliances this year.
4. Metal Tendencies. Metallic pieces compliment matte nicely and will find its way throughout the home. Metal end tables, nightstands, decorative lamps, expect to see homes shining with metal in place of glossy paint.
5. Outdoor Additions. The trend of outdoor/indoor functionality that started last year is taking over, especially here in the land of 70 degrees and sunny. An increasing number of homeowners want to bring their living space outdoors. This means more pools, outdoor fireplaces, bars, BBQs, roof decks, indoor/outdoor patios, etc.
6. Wood Works. What goes better with metal than wood? That chic but rustic look is what it's all about...and it started from the bottom to the top. From the floors on up, expect to see more lamps, pots, clocks, and other decorative wall art made of wood. It brings life and warmth to the cold metallic feel of our high-tech homes.
7. It Figures. Geometric patterns are making a comeback. The pop of geometric wallpaper, backsplashes, and light fixtures, you can go big and make a statement or be subtle with hints of geometric shapes in your decor.
8. No Tanks. Three words: Tankless Water Heater. It's an investment, but in the long-run, you can also be saving money. Tankless water heaters only provide "as needed" hot water and come in both electric or gas models.
9. In-law Suites. The extended family living under one roof is becoming more common. With many families welcoming in their parents, a large downstairs bonus room is key. Downstairs bedrooms and bathrooms are quickly being converted to in-law's suites with wider doorways, more storage, a private bathroom and, for some, a small kitchen.
10. Terra Cotta. It's back in a big, bold way. Don't think of the traditional dark red look, but think earth tones and intricate patterns.
11. Modern Mudroom. When you think of mudroom, you might think of a place to leave dirty shoes...that or you're scratching your head. Mudrooms, once a place to leave behind muddy shoes, is now trending up. Newer homes will see modern mudrooms with shelving, cubbies, and racks for shoes, book bags, coats, and keys. Keeping these miscellaneous items that typically linger around the house organized and out of sight is a minimalist's dream.
12. Cool Contrast. While black and white never go out of style, this year you'll see some stark contrast in other shades like eggplant walls and beige floors.
Source: https://www.bobvila.com/slideshow/the-most-in-demand-home-upgrades-for-2018-51745/cool-contrast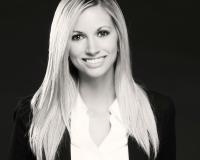 Author:
Liz Peters
Phone:
949-683-5374
Dated:
January 4th 2018
Views:
334
About Liz: An Orange County native and Team Manager of The Kurt Real Estate Group with a heavy background in bo...